Happy new year, I hope 2020 will bring perfect vision into your life. Throughout this holiday, I had the comfort or rather the luxury of getting my hair braided for the holidays. Normally depending on the length of time I have available I tend not to do it as much as I would when I was a lot younger.
Getting hair braided
Now depending on how often you get your hair into a protective styling which is what is often common especially on afro hair, I decided to have it styled for the Christmas period. I ended up doing a hairstyle, which I had not done in a long time which typically I would do when going to school. I would say that it's quite similar to the style below, however it was just with my own hair. After washing it with a wonderful shampoo, that smelled amazing which my sister wanted me to try as we were both doing our hair together, I had to get it blow-dried for the styling.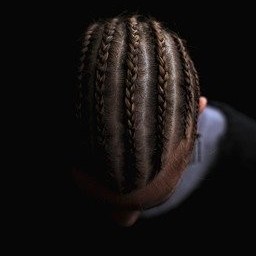 Getting the hair braided was quick and it took about 45 mins to 1 hour. I had to wait in the salon for my sister as we had gone together. After three hours at the hair-dressers, we ended up going home and got complimented on our looks, we both had different styles. To give a description of my hairdo, I had my hair braided up to the middle of my scalp and also a few braids hanging towards the front of my face. My sister had a simple braid back as she wanted to put a wig on and did not really want anything fancy.
Now one thing I did not mention was that before the hair was braided, I asked the lady to oil my hair but I did not check to see if the ingredients would be problematic to my scalp. In the first week all was well, however I started feeling slightly itchy on my scalp. By the second week, my scalp actually got really itchy. I was trying not to scratch it unecessarily, however there was no relief in sight.
Scalp care
Normally, after hair is braided, different individuals normally maintain their scalps in many ways. Some individuals try to avoid washing their scalps as that would loosen the braid and therefore causing their hair to look unkempt. Due to the fact that I had just braided my own hair I knew that by washing it, It would get frizzy. Therefore I took some olive oil spray which I had and used it to ensure that my scalp stayed well moisturised. It seemed to work for a few days, however after some time it also became a little ineffective. I needed some type of solution and for me using the harsher shampoos with sulfate it would have an impact on my hair by causing it to be too dry.
I dared to leave my hair for two weeks, however by the end of the second week it was quite flaky and I had to do something about it. Therefore I ended up getting some tea tree oil conditioner and one of my favourite himalaya shampoo. When I washed my scalp, I put the shampoo in place twice as I kept scrubbing and rinsing it. Once I had the conditioner on my scalp, I left it for about 5 mins in order to feel the impact. It felt really clean. I ended up rinsing my hair and my scalp was in great condition. The only thing I ended up doing was putting some oil on my scalp to ensure that it does not get dry.
Now sometimes for the sake of ensuring that the braid stays intact an individual can decided to forgo washing, however from that moment, I learnt that I cannot do that on my scalp, it's just too sensitive to be left as it is.
I think it's normal to have an itchy scalp after you braid and basically it's because your hair is being pulled from the scalp. Additionally, some individuals tend to leave their braids without worrying about how to moisturise it.
Moisture
It's very important to make sure that even though you have your hair in a protective style that you are maintaining it. There is still growth and your hair will keep shedding regardless of the fact that you are not combing it everyday. Although your braids  can get a little loose, it's nothing to worry about as the condition of your scalp is important to stimulate your cuticles to help your hair in growing. You don't want to have your hair braided and once you remove your braids, your hair is also coming off with the braids.
A clean scalp will help in getting your hair to grow. I have also listed a few products at the bottom that are great for braided hair in ensuring that it remains moisturised. If you are allergic to some of the ingredients, make sure that you use something that will suit you. A lot of individuals use what others tell them but not everything will work for you.
Some of the sprays that help when hair is braided are:
African royale brx braid and extension sheen spray
Dudu-Osun anti-itch braiding spray
Ashea braiding and lock spray
I have not listed all of them, however there are quite a few brands that provide these types of products that can be useful for your scalp. The benefit of most of these products is that they minimize itchiness and maximize your hair growth.
Through this little experiment that I tried over the holiday period, I realised how important it was for me to maintain a clean scalp as I mentioned earlier I don't really braid my hair too much.  Be careful to keep your scalp clean no matter how  frizzy your hair will look. Additionally, if your hair does not hold a braid for a long time, there is no use in keeping it on your scalp for too long.
Has anyone ever put in braids for far too long on their scalp? If you did, what did you do about it?