In this article, I will be speaking of specific products that I have used for my hair and dry scalp. Why would an individual get a dry scalp, there are many reasons, it could hereditary, sometimes if you shampoo too often your scalp can get dry. If you are not washing your hair often, that could be another reason for you to get a dry scalp. However this is another amazing article that will help you in finding products that may potentially be great for your dry scalp. I looked for products that can be used by any individual and I have compiled a list of all the benefits and challenges of using the products. I will not be recommending any particular brand because I think sometimes it's up to you which you think would work well on your scalp. As written in other blogs, I did mention that it's good to have an idea what type of hair you have if you have high porosity or low porosity hair. It's good to know what type of hair you have in order to avoid using the wrong type of products on your hair.
1. Avlon Keracare dry and itchy scalp shampoo

I will not put the price of Avlon Keracare on this as it ranges from $15.95 AUD – $ 25.12 AUD. Therefore, one bottle on it's own is quite pricey.
How to use it
Make sure that you rinse your hair with water, apply the shampoo like you would an ordinary shampoo, however for more effect, leave the shampoo on your scalp for about 2 mins as that will help in cleansing your scalp. Once you rinse it off, apply the conditioner which you can leave for about 5 mins before your rinse it out. Once you have rinsed your hair, it's best to apply the glossifer which will help keep your scalp and hair moisturised.
Ingredients
In terms of the ingredients, Avlon Keracare dry and itchy scalp would be considered a more cleansing shampoo due to the fact that it does strip your hair of all the oils or buildup. If you have problems with sulfate, then this would not be right shampoo for you. The shampoo does not contain silicones though which is great for individuals that cannot use products with silione. If your hair is relaxed keracare works really well on it. Once you use it, it's ideal to use the Avalon keracare glossifer or if you have any light oils that may be suitable then it would be great to use.
The great thing about keracare, it is suitable for all hairtypes therefore it works for most individuals. This would be considered one of the better treatments for a dry and itchy scalp. Now when I say treatment, that means that it will not cure the condition, it will just make it more manageable.
2. Moroccan dry scalp treatment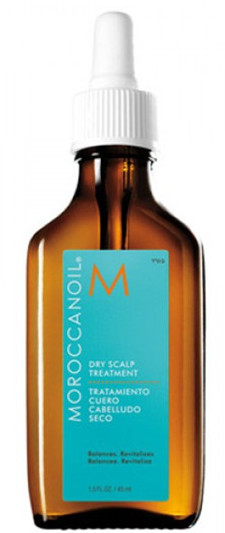 Moroccan oil has been trending in the past few years, through commercialism, however it has been used for decades. The cost of Moroccan oil ranges from $ 35.16  AUD – $ 43.95 AUD. Now depending on how well you do your research you will find various prices.
How to use it
As this is an oil, it's best to apply it in sections. If you can part your hair into four different sections, each part can get 3-6 drops of oil and rubbed into the scalp for maximum impact. Once you apply it leave it on your scalp for 5- 10 minutes and rinse it off. Follow up using the Moroccan shampoo and conditioner. It's best to use it weekly so that you can see if you have any improvement before you minimise using it. If you want, you can use the oil overnight and wash your hair the next morning.
Ingredients
This is a lightweight oil that contains argan-oil, lavendar and geranium oils. The benefit of the product is that it moisturises your scalp and minimizes the flaking. It works well on all hair types. It absorbs easily into the scalp and it has a little applicator that makes it easy for you to target any dryer areas. Moroccan oil can last up to six months depending on how often you are using it for your scalp.
If price is a factor for you them, it may be quite expensive and something that you use sparingly depending on your budget. However I would recommend this in a heart beat because it works extremely well.
3. Petal fresh pure scalp treatment (tea tree) conditioner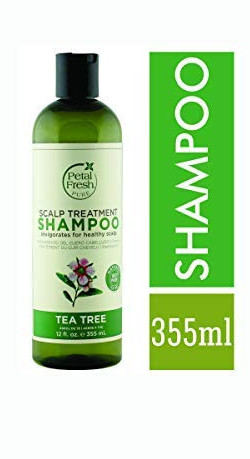 Petal Fresh pure scalp treatment shampoo, is quite new to me, however the price range for this is from $15.52 AUD to $49.95 AUD. This is just for one bottle therefore it would be wise to make a selection depending on what your budget allows.
How do you use it
It works as a typical shampoo and conditioner if you had a specific one that you were using. You will need the shampoo and conditioner in order to get the best outcome. The consistency of the product is quite thick, therefore you just have to be careful when getting it out of the bottle that you don't get too much of it. It really cleanses, soothes and invigorates the scalp after use, therefore it's advisable to massage your scalp when you are using it. It has a pleasant smell even after you rinse it out of your hair.
Ingredients
It does not contain sulfates or silicones making it suitable for individuals that do get reactions to those ingredients. It can be used on coloured hair. Everything has been sourced sustainablly, therefore if that is important to you, then this would be a great product to select. As it contains tea-tree oil it will nourish and restore hair that is dry and damaged and it is also great for replenishing the scalp.
Most individuals complain that for the price they pay, the product comes in a rather small bottle. Others complain that the product may not be as effective. This can also be used on all hair types. By this I mean from curly to straight.
One of the main things that I discovered as I was going through these shampoos, conditioners and treatments is that the market seems to have a lot of products with tea tree oil in it. The best thing to minimize any dissapointments is to ensure that you understand what works for your hair. Save yourself time and money by being strategic about what is best for you.
Have you tried any of the following shampoos and if you did, can you inform me how they worked for you?  If you have any suggestions as to the best products for dry scalp it would be great to hear from you as well.